Page 1-Adams-Carmichael Page 2-Carpenter-Durham Page 3-Edmonds-Long
Page 4-MacAlpine-Norton Page 5-Otsuki-Wright
Bud Carpenter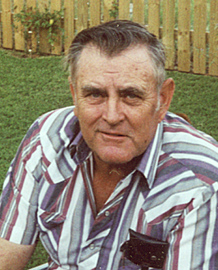 Occupation: Rancher & Payne County District 3 Employee
Spouse: Carol Flowers
Married: 40 years Children: 2 Grandchildren: 4
We have two daughters. Kelli and husband, Rusty, have one boy and two girls. They live in Broken Arrow, OK. Kerri and husband, Jim, have one daughter. They live in Cushing, OK.
I work for Payne County District 3. I do a little bit of everything. I really like my job and the people I work with.
Carol and I still live on our farm and still have our livestock. We really love this kind of life. We don't go much-just like to stay home and work around the place. But we do love to go see our children and grandchildren and for them to come see us.
***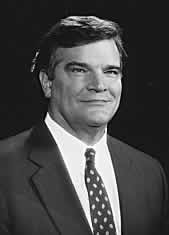 Patrick Jon Casey
Occupation: Attorney
Spouse: Robi
Married: 9 years Children: 2 Grandchildren: 3
My wife Robi is an OU grad and Pi Phi. Former champion gymnast, cheerleader and instructor, junior high science teacher, legal assistant and Oklahoma State Home Builder's Woman of the Year. Now a full time wife and best friend.
Two daughters (1) Kim (33) OSU Presidential Leadership Scholar and Theta; part time occupational therapist and full time mom of three sons (3 - 2 - 7 mo.), still considering pursuing Ph.D.; married 10 years to a great guy, Academy grad, NCAA All American diver, USAF jet fighter pilot, live outside Pittsburgh, PA.
(2) daughter, Julie (24), still in college (4th college), interesting, works with hearing impaired and mentally challenged in Seattle, WA.
I am an attorney with McDivitt & Casey, P.C., Edmond, OK. Firm has represented closely-held businesses throughout the United States since 1941 and has a closed practice involving transactional, tax, real estate, and estate planning matters. Business has included several trips to Russia and Grand Cayman Island. National Senior Life Director of the National Association of Home Builders and Past Chairman of the Taxation Committee. Charter member of National Commercial Builders Council 1992 Industry Professional of the Year, past Trustee, past Chairman-Legal Committee, and Commercial Property Builder Designation. Legal Counsel, Lifetime Director, and Executive Committee Member of Central Oklahoma Home builders Association.
I am a speaker or instructor with over 225 speeches and seminars in 22 states with over 150 tax and real estate articles published. Have been included in The Bar Register of Preeminent Lawyers, Who's Who in American Law, and Who's Who in Real Estate, and received the highest "AV" rating by Martindale-Hubbell. Graduate of the university of Oklahoma and Oklahoma City University School of Law (Phi Delta Phi Graduate of the Year-Learned Hand Inn). Admitted to practice before several Courts, including the Untied States Supreme Court.
Enjoy grandchildren and traveling, especially foreign islands. Best recent trip-two weeks in Tahiti, going back with friends next year.
***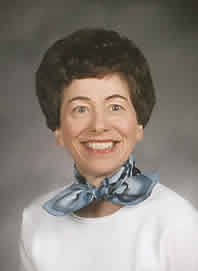 Ann Caskey
Married name: Eakin
Occupation: Teacher - Stillwater Middle School
Spouse: Ben Eakin Occupation: Analyst, Oklahoma State University
Married: 21 years Children: 2
Our daughter LeAnne is 19 year old and will be a sophomore at OSU this fall. Brian is 16 years old and will be a junior at SHS. Having children later in life than the rest of you has helped me "stay young!" LeAnne and Brian are a joy to us and we are certainly proud of their academic accomplishments.
I have been in charge of the In-School Suspension Program at Stillwater Middle School for the past five years. Needless to say, I have had a variety of experiences with students. I could write quite a book about it all! My husband and I enjoy the challenge of maintaining and re-modeling my childhood home. When we were in high school everyone thought I lived "way out in the country". Now the city limits of Stillwater borders our property. However, we still enjoy the quietness of "country living." Ben and I enjoy singing in our church choir, gardening, following OSU sports, and keeping up with our teenagers.
***
John Chapman & Sherri Nelson
Married name: Chapman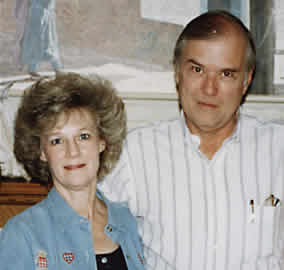 Occupation: Owner/President, Aus-Tex Service Station Equipment, Inc.
Married: 39 years Children: 3 Grandchildren: 3+ one on the way
We have two daughters, Kathy (35) and Kristi (31), and one son, Steve (26). Kathy works as Accounting/Bookkeeper for Aus-Tex. Son-in-law, Terry, is an Aus-Tex salesman. The plan is for them to take over Aus-Tex when John retires. They have given us a granddaughter, Katy who is eleven.
Our daughter, Kristi, and her husband live in Colona, Illinois. Kristi is an elementary school teacher, but has taken time off to care for grandsons Clint (6) and Jacob (1). They are "expecting" #3 in December. Her husband works for the John Deere Co.
Our son Steve is currently working as Parts Manager for Aus-Tex, but is looking forward to a "new venture" as a partner in a new fish and pet store here in Austin.
Sherri - In 1991, I was in a rollover car accident in Stillwater (I was visiting for my mother's birthday). Luckily, I was not seriously injured, but in Feb. of '92, I was diagnosed with CFS/Fibromyalsia. The cause, they feel was the car accident, which lowered my immune system. This is the reason why we have had to miss several reunions. I am REALLY hoping I can attend this year. I really enjoy interior decorating our home, and making wreaths and flower arrangements for family and friends. And, of course, I love spending time with our grandchildren.
John - I started Aus-Tex Service Station Equipment, Inc. 19 years ago, here in Austin, and can proudly say "we have come a long way!" Aus-Tex is a Petroleum Equipment Distributorship. We service and sell all gasoline equipment, from pumps and underground tanks to computerized cash registers, etc. We also have a construction department. We build convenience stores and gasoline stations for Exxon, Shell, Chevron, Texaco, etc. It is an interesting business and "ever-changing".
My hobbies include golf and truck racing. My son-in-law, Terry, races a truck partially sponsored by Aus-Tex. I just became a member of the "Texas Cushman Club". I'm looking forward to attending meetings and maybe even buying a scooter to rebuild! I had my first Cushman, when I was fourteen and have lots of great memories! As far as interest go-our grandchildren are "Number One"!
***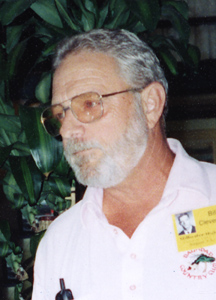 Bill Cleverdon
Occupation: self employed, own and operate a small oil field service company
Spouse: Deborah Married 20 years No children.
Both of us enjoy hunting and fishing. I do gun work and make custom knifes
for fun. Deborah also works for our company. She teaches the shooting sportsas a hobby/sideline
***
Mary Kay Cooper
Married Name: Warren
Occupation: Office Manager, Zachry Construction
Spouse: Lynn, Safety Manager, Zachry Construction
Married: 39 years Children: 2 Grandchildren: 2
Married 39 years to the same guy. We have two children and two grandchildren. Our son Wade is manager of the feed mill for OSU. After 10 years of marriage they finally produced us a granddaughter. Allison is a two-year-old red head. Our daughter Kathy is a computer guru for GE. She managers and writes their computer programs for that division. She has a ten-year-old son, William.
Lynn worked for a company where he was home on weekends and gone all week. If he stayed more than a week, I would fly to wherever and spend a few days. Then he took a job for another company and he was gone for nine months. Started out driving the six hours every other weekend. Then it got to be once a month. Woke up one day and decided this wasn't the way we wanted to live. They needed an office manager. So, I quit my job, packed my sewing machine and clothes in the back seat of the car and joined him. Worked out great until moving day. That was a nightmare. The company provided us an apartment. (You still have to have your things!) Getting all those things to fit in a pickup and car was impossible. We went out and found the biggest and best trailer, sold our new home and hit the road. We're gypsies and love it. Our jobs last 18 months. Lynn is a safety professional and I am diversified enough that I can work for the same company.
We practice retirement most weekends. We do all the tourist things and have met some really great people. We are in Casa Grande, AZ at this writing, but should be transferred in the next two weeks to Ohio. (We think!) We won't know for sure until our wheels hit the highway. This is an old company and has more work than they can staff.
I sew for grandkids and still paint some. We love to get out and explore the area. We thought the desert was great until we experienced one of their monsoons. We rocked and rolled for two hours one night. The trailer had to have some repair. This is not a place I would retire to. We prefer the east. There is more history and things to do.
When we retire, we plan to be snowbirds and pick the places we want to spend time. We have the mobile mansion to do it. When we get bored or too old, we can park in one of the kids' front yard. Our son wad has built us a pad already.
***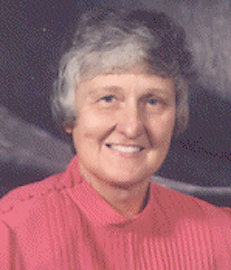 Dana Cowan
Married Name: Naas
web page: www.goldenprinting.com
Occupation: Sales/Office, Golden Printing
Spouse: George Naas Occupation: Self-employed, Golden Printing
Years Married: 35 Children: 2
My husband and I run a printing company and have done so since we were married in 1967. He is a printer (a real craftsman at his trade). He also enjoys bowling. We both enjoy square dancing-this is how we met all those years ago at a Denver singles square dance club.
My daughter, Rachel Naas Robson, has been married for 4 years (no kids) and lives in Baldwin City, Kansas (between Lawrence and Kansas City). She is in her first year of medical school in Kansas City and is on a full scholarship and stipend to obtain a doctorate in medical research.
My son, Alan, is currently a sophomore at Colorado State University in Fort Collins, CO. His hobbies are roller hockey and mountain biking.
I stay extremely busy with our printing company, Golden Printing and Promotional. I handle all office work plus sales activities. my husband handles the production. We have no plans to retire, as self-employed people just have to keep right on working!!! However we both enjoy what we do. I am a former teacher, too, and keep my foot in the door a bit by substitute teaching occasionally. I substitute about tow days a month at a local school district and at an adult opportunity school in downtown Denver.
I enjoy going to plays and musical activities with lady friends. I am in several groups, including church activities and lots of Chamber of Commerce and networking activities. I do social things with friends made from these groups. I am learning to play Mah Jong (an old Chinese board game) with a small group of friends.
I also love to walk and try to go for outdoor walks several times a week--especially when time and weather permit. There are some beautiful parks and trails here in Colorado!
***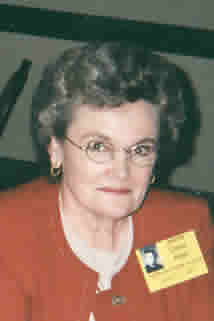 Jeanie Crane
Married name: Reed
Occupation: Supervisor, Delaware County Department of Human Services
Children: 2 Grandchildren:3
My daughter Robin (38) is a graduate of Missouri Southern at Joplin and is admissions counselor at Crowder College, working at Crowder's Cassville, Missouri campus. She is the single parent of Raven, 8 years and Reed, 4 years.
My son, Travis (34) is a pilot and graduate of Southeastern at Durant. Travis, his wife Dana, and son Trevor, 4 1/2 years live at Ada where Travis is the Chief Corporate Pilot for Pre-Paid Legal Services.
I am very fortunate to still have both of my parents. In fact, they just quit their business July 1, 2000.
I received my B.S. in 1965 and M.S. in 1967 from OSU in Home Economics. I taught four years, worked for the Department of Health Education & Welfare on indian programs 8 years. I was personnel director at Shangri-La Resort 2 years and have been an employee of Delaware County Department of Human Services 20 years. The last 6 years a Family Support Supervisor.
I serve on the vocational advisory board for Grove Public Schools, advisory board for allied jobs programs at NEO A&M in Miami and am active in Delaware county's "Walk For Life" cancer fund-raiser, a "cause" very dear to my heart. I have recently become a volunteer for the new "free health" clinic in Grove.
Between Mom and Dad, my children and grandchildren, I stay busy! I'm looking forward to retirement from the State within the next year and, of course, I'll still have to work until Social Security-preferably at something low stress!!! I'm so looking forward to the reunion and seeing everyone!
***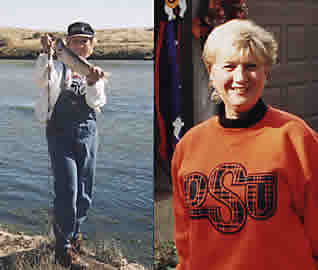 Barbara Derr
Married name: Buikstra
Occupation: Housewife & Stained Glass Artist
Spouse: Cyrus Occupation: Stillwater Transfer & Storage
Married: 37 years
Besides taking care of our home, we are both into yard work. Several years ago we designed and built a water garden. We have been changing and planting ever since. It's so wonderful to sit and listen to the water falls and relax. It takes me to the mountains! I still do a lot of stained glass and love the challenges people give me. I get lost in my work!
Each year we travel in the fall. We love to visit places of cultural interest, old stores, etc. Of course, our trips wouldn't be complete without wetting our fishing lines in the rivers and streams of Wyoming and Colorado. We do all of this between the OSU football games, which we have supported for many years. I still take care of our rentals, so my plate is full.
***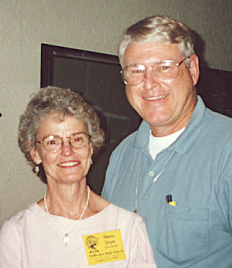 Tom Doyle
Spouse: Nancy
***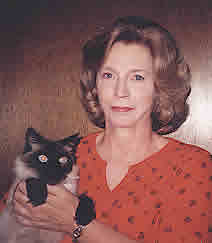 Ginger L. Durham
Married name: Lynd
Occupation: Retired Music Teacher
My cat "Prissy" and I live next door to my mother, Bobbie Durham. She and I enjoy playing scrabble, yard work, concerts, walking and swimming in her lovely pool. We also work on her properties, where I am her "low-budget" painter.
I sing with Stillwater Community Singers and occasionally at church. I enjoy dancing at the wonderful dances given by the Stillwater Ballroom Dance Association. I recently preached at Southern Heights United Methodist while the pastor was at a Kairos ministry at a prison. Most recently I have found a new talent: cooking for the Alpha program at the First United Methodist Church. I am a member of the newly-formed "Friends of the Community Center", an organization formed to keep the City of Stillwater from destroying the center. You can help by sending money to the organization c/o Winfrey Houston.
***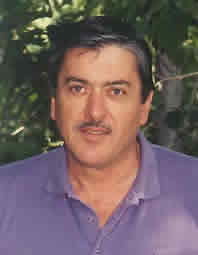 Jack Durham
Occupation: Retired
Single Family: 1 Son 2 Grandchildren
Are you sittng down? Boise just got its first Sonic Drive-In in 2001. We SHS alumni know what Boise has been missing!! However, the local Sonic doesn't know what a Hiner Special is (Ask Carl Hiner) - yep, Carl has his own burger.
I am now retired from D.O.I., BLM, Fire and Aviation. I've done a little RVing in the Southwest. I've put some family genealogy online - if you want to read a little history of the 1889 Land Run around Stillwater, go to - http://www.webpak.net/~sdurham/jack/will.html (webpak (micron) has just sold its Internet subscribers to earthlink.com, so this URL will change soon; but you can search for "Durham Family" and find the pages).
My son, Scott, lives in Boise, and works at Micron Technology. I have two grandchildren nearby, ages 4 and 6, and spend much of my time with them.
I'm a Charter member of the Boise Book Club - this group, mainly guys, meets for drinks and talks about the books we've read. We keep forgetting to discuss books, but being a book club member does impress a lot of Boise's finest.
You don't know Jack !
Sexual Orientation: Hetero
Birthday: 4/15
What I want to be when I grow up: P-51 pilot
Favorite Business Quote: Those workers not fired with enthusiasm soon will be
Favorite Friend's Philosophy: "Take time to eat the flowers"
Current Occupation: Retired - Aviation Safety
Favorite Songs: Superstition
Favorite Album: Rumors (Fleetwood Mac)
Favorite Performer: Barry Sanders
Favorite Country Singer: That'd be Garth (my son bought the beer while Garth played at "Willies" saloon at Oklahoma State University) ............ so I put Garth through school ??
Favorite ZZ Top Solo Song: La Grange
Favorite Classical Song: Bolero
Political Party Affiliation: Democrat
Current Car: Dodge Pickup and CJ-7 Jeep (sold to my son, Scott - can still borrow it). I borrowed the Jeep for a trip to the Baja Jan. 5-20, 1998. A great Trip!!
City of Origin: Elk City, Oklahoma
Favorite Color: Mauve
Favorite Smell: Rain (ozone)
Favorite Candy: Fire Stix
Favorite Cookie: Peanut Butter
Name I would have chosen for myself, if I were consulted: Bif, Gomer
Favorite TV show: Paladin - Have Gun Will Travel
Favorite Movies: Big Chill, Raiders of the Lost Ark, Tom Jones
Favorite Claymation: What the hell is a claymation?
Favorite Cartoon Character(s): Any "Far Side" critter
Best (and first) Wilderness Area: Gila Wilderness, SW New Mexico
Father of conservation: Aldo Leopold
Favorite thing to do on the Internet: Surf
Favorite Books: Civil War in the West, Undaunted Courage
Favorite Car, (what I'd buy if I had the money): Beechcraft King Air and 55 Chevy
Favorite City: Victoria, B.C. Canada (Beautiful !)
Favorite Toy: Cessna 182
Favorite Past Pet: Mutt
Favorite Current Pet: Lolita
Favorite Philosopher: Dr. Ruth
Paper or Plastic? Save a Tree
Favorite Commercial: Nissan pigeons
Favorite Flowers: Penstemon, Fireweed, Ocatilla, and Peonia
Favorite Heroes: Lewis and Clark (Corps of Discovery)
Drug of choice: Caffeine
High School: Stillwater High School, Stillwater, Oklahoma
College: Okla.State Univ.(BS)and New Mexico State Univ.(MS)
College Major: Wildlife Science
Favorite sculpture: You kidding ? (ok, chain saw wood carving of a Salmon)
Where I was when John Lennon was shot: Don't Remember
Where I was when Kennedy was shot: Spelunking a cave in western Oklahoma - In total darkness; heard the sad news on a portable radio............no, really ! !
Where I was when the Space Shuttle blew: Office
Favorite Inet Search Engine: Google.com
Favorite Political Figure: Al Gore
Favorite Show Tune: Nobody Does it Better
Favorite Beer: Pacifico
Favorite Shape: Petite
Favorite Fruit: Strawberries
Favorite Vegetable: Fried Okra, Radishes
Worst Vegetable: Boiled Okra
Favorite Fast Food: Burger King
Favorite Season: Spring
Most annoying recessive trait: Allergies
Most gratifying recessive trait: No wisdom teeth
What I drink when I'm not drinking beer: Diet Pepsi
Favorite Beach: Playa Coyote
Page 1-Adams-Carmichael Page 2-Carpenter-Durham Page 3-Edmonds-Long
Page 4-MacAlpine-Norton Page 5-Otsuki-Wright