Page 1-Adams-Carmichael Page 2-Carpenter-Durham Page 3-Edmonds-Long
Page 4-MacAlpine-Norton Page 5-Otsuki-Wright
Ian MacAlpine
Occupation: Youth Minister, First Evangelical Free Church
Spouse: Martha Mullen Occupation: Retired teacher Years Married: 34 Children: 2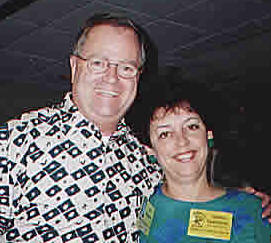 Martha is enjoying retirement-being able to do pretty much what she wants. Our two sons, Brett and Colin, are finished with college and graduate school. Brett is not married and is a statistician with Household Finance in the Chicago area. Colin is married and is an engineer with Motorola in Austin, TX.
Martha and I have lived in Durham, NC while I was in graduate school; Lanai City, HI where we both taught at Lanai High and Elementary School; Abu Dhabi, United Arab Emirates where I was principal and Martha was a teacher in the Phillips Pet. Co. Dependents' School; Chicago, where I was in Graduate school again; Oklahoma City where I was Principal at Heritage Hall School's Upper Division; Rosemount, MN where I was an assistant principal at Rosemount High School; Caracas, Venezuela where I was Principal of Escuela Campo Alegre; Ft. Worth, TX where I was again in graduate school; Burnsville, MN where I was Associate Pastor at Berean Baptist Church; San Diego where I was Associate Pastor at College Avenue Baptist church; and now in Maplewood, MN where I am Associate Pastor at First Evangelical Free church.
Brett and Colin lived in Minnesota for all but four of their "growing up" years.
It appears we have been very successful as parents, but we have been lousy at raising dogs. Our current pooch, a 7 pound Pomeranian tyrant named Sinbad, is typical of our efforts-much loved, bull headed and spoiled.
As Associate Pastor, I focus on children's and family ministries. I also supervise the pastoral staff. On the side, I serve as an adjunct professor at Bethel Seminary, and I just completed a book, Character and Values: The Four Foundational Values that Result in Good Character.
(taken from the web page)
Ian MacAlpine, the Founder and President of Character and Values, was born in Pearl River, New York and grew up in Stillwater, Oklahoma. He earned an undergraduate degree from Oklahoma State University and graduate degrees from Duke University and Southwestern Baptist Theological Seminary. In addition, he studied three years at the University of Chicago on a Ford Fellowship.
Married in 1967, he and his wife, Martha, have lived in Minnesota sixteen years and have two adult sons, one of whom is married. Beginning in 1965, Ian was a teacher and principal in secular schools on four continents at the elementary, junior high, and senior high school levels. Ordained by the Baptist General Conference, he has been a pastor to children and families since 1983, and he has served four years as an adjunct professor at Bethel Seminary, San Diego.
PREFACE
I had a great childhood! Oh, I didn't like girls until 3rd grade, and after that I was scared of them. Sometimes I felt friendless, even though I had lots of satisfying friendships. Once, Donnie Looper beat me up out behind the trash bins at Eugene Field Elementary School. I saw and participated in lots of conflicts at home. Sometimes I was a snot. But I had a great childhood - and adolescence. I wouldn't trade them for anyone else's.
I didn't realize it at the time, but Mrs. Johnson, my high school chemistry teacher, put her finger on the source of my happiness one day as she corrected me for an atrocious behavior. She shook that index finger up into my face and said, "Ian, that's not good enough. You're different. You've got character."
I didn't know what character was, and neither did I pay much attention to her words. However, by the time I was in college I recognized that some people just seemed happier and more satisfied, and these people appeared to live according to some pretty fixed values.
But what were these values? Commitment was the first one I identified, and I continued seeking the "values for good living" for the next twenty-eight years. In the meantime, my wife and I met, married, and raised two sons. Also, I served as a teacher and principal in secular schools on four continents and, since 1983, as a pastor to families and children.
Finally, in 1988 I had determined that there are thirty consensus values for good living and that four of them are the foundation from which the other twenty-six are built. I subsequently spent six years defining terms and refining the model, completing an article that was published by the National Association of Secondary School Principals in 1994.
To derive the four foundational values, I made extensive use of real life scenarios, and you will find many of them in this book. All of them are taken from real situations I have read about or personally encountered.
Since 1994, I have shared the "Four Foundations of Good Character" with thousands of people - children, youths, parents, public school teachers, Sunday school teachers, pastors, seminary students at Bethel Seminary, San Diego, where I served as an adjunct professor, and even with editors at publishing houses. Many, including some editors, encouraged me to self-publish the construct using the Internet.
I hope you find the four Foundational Values helpful, whether you are a parent, teacher, manager, CEO, or temp worker. Additional copies of Character and Values: Four Foundational Values that Result in Good Character are available on the Internet at www.characterandvalues.org for $8.00 including shipping, handling, and any tax. In addition, you can download Character and Values free at this website.
If you have questions or comments about applying the four foundational values to everyday situations, you are invited to visit the free chat room at the website. You may gain insight from other participants or from the chat room monitor.
Blessings on you as you seek to understand and communicate good character. I hope the four foundational traits model helps you in this quest.
***
Kathleen Martin
Married Name: Thrower
Occupation: Retired Secretary, Pacific Gas & Electric
Spouse: W.C. "Rip" Thrower, Retired, Geologist, Phillips Petroleum
Married: 21 years Children: 8 Grandchildren: 11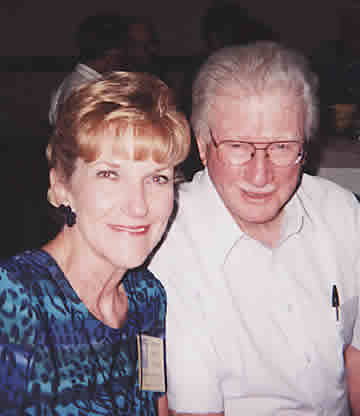 Our family: Dennis Thrower is a golf pro in Alabama. Glen works for United Airlines in Houston. Scott works in Dallas. Daughter Shelley lives in Austin. John January works for an engineering company in Houston and lives in Rosenburg. Mark January lives in New York City. Daughter April lives four miles away here on Lake Livingston. She works at home for "1-800-WEDDING".
I am a retired after being a secretary in oil and gas business for 31 years. I retired almost 3 years ago. I'm hand bell choir director at our church, on the cemetery committee and belong to Methodist women and sing in the church choir. I help my youngest daughter, April, with her four young children. One of our sons works for United Airlines in Houston and we get to fly free. So we plan to see parts of the United States during the summer. We are raising one granddaughter, as my oldest daughter was killed in a car wreck nine years ago. I'm busier since I retired, even though our town only has as population of 535.
*****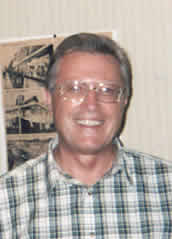 Bob Matheson
Occupation: Production Control Analyst
Employer: Visteon Automotive Systems - Tulsa Glass Plant
Spouse: Debbie Employer: Gene Larew Occupation: Sales
Years married: 29 # of Children: 2 # of Grandchildren: 0
Debbie and I have two sons, Jason is 28 and single. He just recently accepted the job as Assistant Sports Information Director for the Miami Hurricanes in Coral Gables, Fla. Jarod is 25 and just recently married and works on airplanes for American Airlines in Tulsa. I have worked at the Tulsa Glass Plant since it opened in 1973 and my current job is scheduling and procurement of the raw materials for production. Debbie and I have been building a new home the past two years on our property in Verdigris and are trying to remember what we used to do prior to building. We still have our place on Lake Tenkiller and enjoy fishing and boating in our leisure. We just recently went on a cruise to Alaska and hope we can continue to do more traveling in the future.
*****
William J. Megenity
I graduated from Central High School in Oklahoma City in 1961, but I transferred there from Stillwater during my Senior year and I went my Junior year to Stillwater.High school. I attended college at Illinois Institute of Technology, Chicago; University of Oklahoma and Central State University; Edmond, Okla.
I have spent my career in computer programming and analysis with background in most of the languages and hardware that have come and gone. I have been in the Kansas City area since 1989. Before that I was in Loveland, CO; Chanute, Kansas; Frederick & Binger, Okla.; Wichita, Kansas; Bethany, Okla.
*****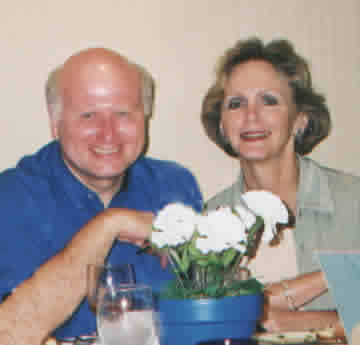 Bob McCaffree
Occupation: Physician, Professor,
OU College of Medicine
Spouse: Mary Ann Occupation: Physician,
Professor, OU College of Medicine
Married: 32 years Children: 2
My wife of 32 years, Mary Anne, and I continue to be Professors in the OU College of Medicine. She is a pediatrician subspecializing in neonatology and I am an internist specializing in lung disease and critical care medicine. Administratively, I am Chief of Staff of the VA Medical Center and Associate Dean for Veterans Affairs.
One of the more significant occurrences to me since our last reunion is that four years ago, I was elected President of an international specialty organization, the American College of Chest Physicians. This has afforded me many opportunities to be involved in health issues on a national and international level. I was a member of the Congressional Advisory Committee on Tobacco and Health chaired by the former Surgeon-General, Dr. C. Everett Koop, and the former FDA Commissioner, Dr. David Kessler. I also testified before Congress on the proposed tobacco settlement and met with Secretary Donna Shalala in the White House. I have also been involved in some international activities with the World Health Organization. During my presidency, I also started an award, called the Governors' Community Service Award, one of the first of its kind among medical specialty societies. Locally, I am Chair of the Tobacco Free Oklahoma Coalition and have recently been named to and elected Chair of the Board of Trustees of the Tobacco Settlement Trust Fund for Oklahoma. I continue to be involved in hospice through the Hospice Foundation of Oklahoma, for which I was the first Chair. I am also actively involved in community health activities as Chair of the Community Health Committee of the Oklahoma County Medical Society.
During the time I was President of the ACCP, Mary Anne was the first female President of the Oklahoma State Medical Association. She has also been actively involved in tobacco control efforts among many other activities. She was recently elected to the Council on Scientific Affairs of the AMA.
We have two wonderful children. Sara lives in Los Angeles and works for Showtime as the Coordinator for New Media, i.e. Web-based entertainment. Matthew lives in Switzerland, rides his bicycle a lot and is looking for a steady job. We try to get together with them as much as possible and we all actually enjoy being together as a family.
*****
Dorothy (Dotty) McCandless
Married Name: Coburn Ely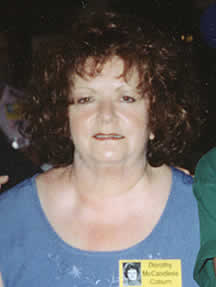 Occupation: Caregiver
Spouse: deceased (2)
Married: 23 years & 9 years Children: 0
I have been married twice and both my husbands are deceased. I had no children by either husband. I dressed hair from 1966 April - 1996 Oct. I loved my job. After and during that I met my husband in 1990 who was a quadriplegic. I started taking care of him and fell in love with him. He passed in 1998.
I am care giving still. There isn't much time for hobbies. Both my last caregiver jobs are 7/24's with a tiny amount of time off. so when you get that, you do errands, pay bills and church.
Donald McCroskey
Occupation: teacher, Cushing Public Schools
Children: 3 Grandchildren: 3
I have a son and his family in San Antonio, a daughter with a little girl in Stillwater, and a second son in Nashville. My grandchildren include two grandsons in San Antonio and one granddaughter in Stillwater. I am twice divorced
After 21 years as an Air Force officer, I entered teaching. Initially, I administered a junior ROTC program in Ohio. After earning a second masters degree at OSU, I started my present position with Cushing Public Schools as a special education teacher.
My main hobbies are fishing and computers. For years I have been active in church work and the Knights of Columbus. I also assist annually with the Cushing Special Olympics kids.
*****
Verl "Dave" McLemore
Occupation: Self-Employed-OK Rebuilders Retired: Anchor Swan Corp.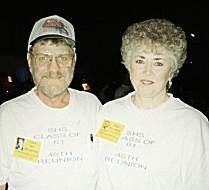 Spouse: Kaye Occupation: Buyer/Clerk, Ace Hardware
Years married: 36 # of Children: 2
Kaye and I have been married 36 years and have 2 children. Lori is 34, married and has my only grandchildren. Brandi is 10 years old and loves Grampa, basketball and 3-wheelers. Destiny is 6 years old and loves Grandma, boys and bicycles. Our son Shawn is 32, single and owns a construction company. He is primarily in home building, but specializes in cabinets and trim.
I own and operate an alternator, starter, generator rebuild shop in Stillwater. We specialize in heavy duty, agriculture and industrial units. My business was started in 1984 after a 15 year tenure with Anchor Swan Corp as manufacturing manager. We also own a farm Southeast of Stillwater and run a cow/calf operation, which has become a full-time "hobby".
Kaye also is involved with wood- and sewing-type crafts and makes me do the wood cut out part. With that said I still find time to tease and mess with our grand kids.
*****
McDiarmid R. (Mac) Messenger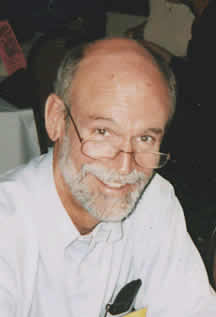 Occupation: Financial Structurer & Trader Employer: Cargill International, S.A.
Spouse: Gail Messenger Occupation: Homemaker/mother
Years married to me: 6 Children: 7 between the two of us Grandchildren: 0
About the Family: Gail, my wife and the light of my life, had to leave the University of California at Irvine where she was a year away from a Phd. in Health Psychology, when we moved to England in 1998. Since moving to Switzerland in 1999 she has been hard at work studying French. Once she passes the official language test she intends to look for a job. In the meantime she is keeping me spoiled and very happy. My oldest daughter, Joy, 27, graduated from University of California, Santa Barbara and is now a fund raiser for the Muscular Dystrophy Association in Los Angeles. Gail's oldest daughter, Rachel, also 27, is a graduate of Boston College and Thunderbird, The American Graduate School of International Management (where I also graduated) and is now a project manager for West Teleservices in Omaha, Nebraska. Thaddeus, 24, Gail's oldest son, is a graduate of Stanford and is currently working for SkyGo, Inc. (a "dot-com"-type company) in Redwood City, California. Nellie, my second daughter, 21, is working for Quantas Airlines in Tucson as a telephone reservation agent. Elena, my youngest daughter, 20, is a sophomore at Arizona State University, after a year playing basketball at Arizona Western. Rebekah, also 20, Gail's second daughter has finished her sophomore year at the University of California, Berkeley with a double major in Pre Med and History and will be spending her Junior Year abroad at the Sorbonne in Paris. Adam, 18, Gail's youngest son will be a Senior at the International School of Geneva and has traded in a passion for water polo (although he still plays) for a passion for road biking - 5,000 kilometers (more than 3,000 miles) in the last eight months.
About my Job, Hobbies, and Interests: I am currently, and have been since I joined Cargill in 1997 after 25 years in banking, working for the Trade & Structured Finance group. My specific responsibilities deal with assisting the Cargill European Business Units finance their suppliers as well as their buyers in a cost effective and balance sheet friendly way. In other words, the Cargill Business Units are to make money trading the commodities and TSF is to make money trading the money Cargill uses to finance their commodity purchases and sales.
My primary hobby is riding my mountain bike as well as riding with Gail on our tandem mountain bike. Our longest trip so far was a 115 mile day trip around Lake Geneva in August last year. We have also ridden up the Saleve, the local "mountain" that takes us up some 900 meters (about 2,800 feet) from our home where we start. In addition, we enjoy hiking in the Alps as well as the Jura mountains which are close by. Gail is also training to run marathons again after a long lay off. She has put her name into the lottery for the New York Marathon and hopes to run it in November this year. We both hope to run the London (or Paris) Marathon next year.
*****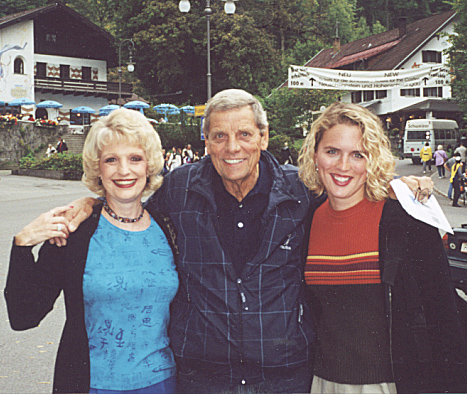 Pam Miller
Married Name: Lease
Occupation: Community Volunteer
Spouse: Gil Lease Occupation: Semi-retired
Married: 32 years Children: 1 Grandchildren: 1 (on the way)
My husband Gil and I will celebrate our 32nd wedding anniversary in May and are expecting our first grandchild in September. Our daughter Amber is 26 and has been married four years to Captain Chris Stanford, a West Point graduate. They have been stationed in Bamberg, Germany for three years and will be there until their five-year commitment is up in May 2002. Amber substitute teaches at the base high school. They spend all their leisure time traveling around Europe.
Gil & I have lived in McKinney, Texas for 12 years in a master-planned community north of Dallas. I enjoy my work as a board member of McKinney Education Foundation where we secure college scholarships for graduating seniors. Gil enjoys playing golf and we love taking long walks thru the neighborhood.
Most of all, we have had the opportunity to travel the last several years and spend time with our daughter and son-in-law seeing all the exciting cities of Europe. We will be going back to Germany in September for the birth of our first grandchild.
******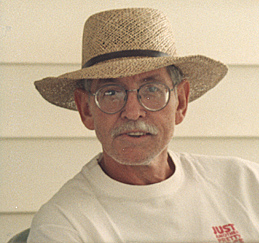 Charles Moore
Occupation: Marketing, C & R Manufact., Ind. Contractor
Children: 2
I have two sons. One is married. Both live in Houston, Texas.
I am an independent contractor doing marketing and consulting concerning air purification.
****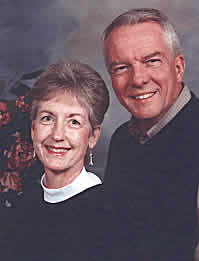 Marti Moore
Married Name: White
Occupation: Homemaker
Spouse: Joe W. White Occupation: Retired, 3M executive
Married: 38 years Children: 2 Grandchildren: 2
Joe retired from 3 M Corporation in December, 1998 and before that year ended we were out of Minnesota and moved into a new home in Tucson, AZ. Haven't missed a day of Minnesota weather!
Our daughter, Karyn, her husband Michael Hansen and our two grandchildren, Abigail (4) and Jonathan (1) live in Columbus, Ohio. He teaches high school math and she works for the public library system. Daughter, Leah, lives in Waterloo, Iowa and is associate professor of speech/communication and director of forensics at the University of North Iowa. Her husband, Wade Davis, is completing his dissertation for PhD in speech/communication and is also in his first year of law school at Iowa University in Iowa City.
We are active in church and helped build a Habitat for Humanity house last year. We are finding time to make many new relationships in our chosen retirement community. I still sew, paint some, work on photo scrap books, love to cook and entertain. We get lots of company in the winter months. I'm reading a lot and expanding my scope of knowledge in lots of areas. Still looking for how to fill the "second half of life".
*****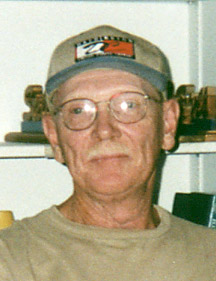 James Mosshammer
*****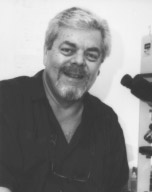 Dwight Nance
Occupation: Professor of Pathology, Adjunct Professor of Anatomy/Immunology
& Physiology/Psychology, University of Manitoba
***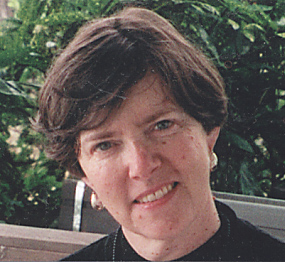 Barbara Needham
Married Name: Butcher
Occupation: Housewife
Spouse: Duane Butcher Occupation: Retired Diplomat
Married: 38 years Children: 2 Grandchildren: 2
My husband is getting his teaching certificate in hopes of coaching high school football. My older son, Duane, Jr. married an Azerbaijani girl and is presently serving as the Administrative Officer at the American Embassy in Bucharest, Romania. My younger son, Christopher and his wife own a computer-related business in Arlington, Va. Christopher also teaches computer classes at George Mason University.
I have been the president of the local League of Women Voters of Mesa County. It is a busy and worthwhile endeavor. By the time you read this, I will have retired from that position and plan to travel, act as a grandma and refurbish my house. I have become quite enamored of China and have several trips planned there in the future.
***
Gordon L. Nelson, Jr.
I'm doing fine here in Ireland. The work is very interesting. I work for an engineering services company that specializes in computational simulation. I can get low air fares to places like Spain, Greece, and Switzerland, and I keep busy on the weekends exploring the island. Not a bad life.
I am enclosing a short summary of what I have been up to for the past 40 years. Do you know what the surprising thing was? I found out it was not too hard to summarize 40 years in two paragraphs. I am not sure what to make of that. Either I have lead a thoroughly unremarkable life, or I am overlooking
some important stuff.
These days I am working for a small company in Dublin that does computer simulations for a variety of processes, such as the vapor deposition of metal coatings onto turbine blades; computational stress analysis and crash simulations for the automotive industry, and the analysis of stability for satellites launched by the European Space Agency. After completing my education (BS, MS in physics from OSU, and MS in aeronautical engineering from the University of Washington), I went to work for Boeing in Seattle, helping to design the inlets for their aircraft engines. This work stimulated my interest in high speed flows, so I took a job in 1980 at a company called MSE in Butte, Montana. They were doing testing on a power generation process called MHD. They were also located in the heart of the Rocky Mountains, which meant the skiing was very good and not very expensive.
While in Montana I developed a keen desire to become a good skier, and I went skiing nearly every winter weekend for several years. These days I think the equipment seems to get better every year, and it almost compensates for the aging process, so my skiing ability has reached a kind of stable plateau, somewhat shy of expert.
I later taught engineering and math courses to undergraduate engineering students at Arizona State University, and here I am in Dublin, 40 years out of SHS, maybe better educated and certainly older than I was on graduation day, but probably not much wiser. I still enjoy hiking and traveling, and Ireland has much to offer on both counts. I am enjoying the proximity to Britain and the rest of Europe, and it is nice to go traveling on long weekends. No regrets, I would do it all the same way if I were to do it again.
******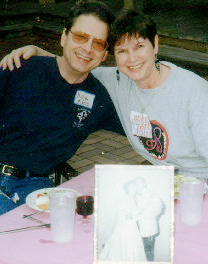 Susan Newell
Married Name: Klos
***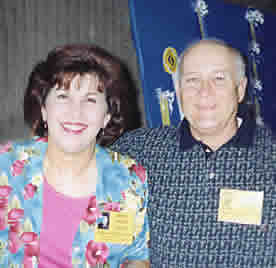 Donna Norton
Married Name: Going
Occupation: Retired
Spouse: Gary Going ('59) -Retired
Married: 36 years Children: 2 Grandchildren: 1
Gary and I have two children, a daughter Penny and a son, Scott. Penny is a Director with USAA in San Antonio and is married to Adam Garcia. Scott is employed with Sanden International, an engineering firm in Dallas. He and Robin delighted us with the birth of our granddaughter, Sarah Elizabeth, on January 2, 2000.
Gary and I have both been retired for about two years. Gary was with Texas Instruments for 33 years and I was in the banking industry for 21 years. We love retirement!!! We both volunteer at Medical Center of Plano and feel we serve our community there. I love to garden (flowers and tomatoes) and plan in the fall to join a Plano Garden Club. Hope they will have some good ideas for me. I have killed quite a few plants! I love to shop and have become interested in antiques lately. My other love is reading.
Page 1-Adams-Carmichael Page 2-Carpenter-Durham Page 3-Edmonds-Long
Page 4-MacAlpine-Norton Page 5-Otsuki-Wright