Page 1-Adams-Carmichael Page 2-Carpenter-Durham Page 3-Edmonds-Long
Page 4-MacAlpine-Norton Page 5-Otsuki-Wright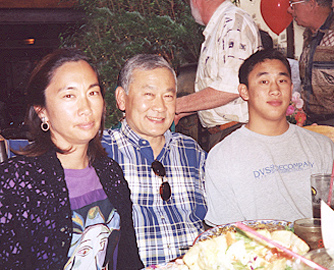 Wayne T. Otsuki
Occupation: Retired-The Aerospace Corporation
Spouse: Katrine
Married: 19 years Children: 2
My wife, Katrine, and I have one son Jonathon, who is graduating from high school this spring. He will be attending UC Santa Cruz this fall.
My company supports the Air Force in its space and missile programs. I am involved in the improvement/modernization of the ground communications systems and remote tracking stations at the Air Forces' world-wide satellite control network. I enjoy my daily jogging, and my wife and I are avid tennis players and fans. I still like to play bridge although I don't play tournaments very much any more. I mostly play in home town games with friends.
******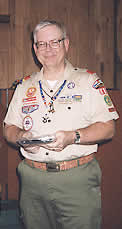 Robert C. Oursler, Jr.
Occupation: Logistics Engineer, Rocky Mountain Remediation Services
Married: 35 years Children: 2 Grandchildren: 0
Still in the cold at the foot of the Rocky Mountains. Mary Beth "retired" from 33 years of teaching public and private schools to pursue another career. Recently a senior customer service representative for Verison Wireless.
Our daughter Jennifer married Ray Fas in California in 1998. She is a Senior Systems Engineer for a software company in the Los Angeles area. Ray is a Mechanical Engineer with a small manufacturing firm.
Our son Tom is engaged to Stephanie Quaintance and are planning a wedding next summer in Colorado. Both are in communications industry. Tom is Media and Schedule coordinator for AT&T Broadband. Stephanie is Administrative Coordinator for Denver Region of Clear Channel Communications.
Professionally, I am Training Coordinator for one of the "hottest" buildings in the Department of Energy at Rocky Flats. I maintain 20 qualification/certification programs and teach 27 courses to keep workers and supervisors safe while cleaning the plant up and shutting it down.
I am an active 40-year volunteer veteran of Boy Scouts. I received the Silver Beaver from the Denver Area Area Council (their highest volunteer award). Both of my parents also received the Silver Beaver. I am a member of the wood badge staff, member of Tribal Council in Mic-o-say, asst. scoutmaster, Eagle Scout and mentor. I was a member of the staff this summer at the National Jamboree. I am president of Chancel Choir at Hope United Methodist Church, litergist, lay speaker, teacher of God and Country Program in Sunday School. Also I am a soloist, narrator and member of Gospel Quartet.
I am vice-president of Rocky Mountain Division of Train Collectors Assn., Auctioneer, member of Auction and operating modules committees, and board of directors. I am an avid O-gauge model railroader, classic car afficionado (having fun with a 1966 Dodge Charger). I also enjoy hiking, camping, swimming, photography, travel, reading, theater, music and spending time with family. There is nothing like the view from the summit of a 14'er (14,000 ft. mountain).
******
Linda Parcher
Married Name: Clemons
Occupation: Customer Service Rep, Avaya, Inc.
Spouse: Mike - Retired
Years married: 25 Children: 3 Grandchildren: 8 Great Grandchildren: 1
My daughter Cheryl lives in Columbus, OH with her husband and 3 children, Cody 13, Kelsy 11 and Caitlin who is 9. Mike's daughter Kim lives in Oklahoma City with her hubby and 2 children, Cappra 16 and Garret 12. Mike's son Michael also lives in Oklahoma City. He has 3, a son Mike 24, a daughter Brit 21, and a son Derrick 19. Grandson Mike has a 5-year-old daughter and is married to his high school sweetheart.
When Mike decided to retire, I decided it was time for me to re-enter the work force. I got a job with Lucent Tech. at the newly opened call center in Oklahoma City four years ago. Two years ago Lucent split and the entity that I work for became Avaya. I'm a service rep with the dedicated accounts of Target and State Farm Insurance. This means that I handle all their questions and problems that concern the Avaya equipment, take care of billing issues and place orders for them. I don't do this alone, there is another person also responsible for Target and State Farm. She and I make a good team.
Hobbies recently have been remodeling our home-room by room.
******

Carolyn Pennington
Married Name: Romer
Occupation: Travel Director, ITA Travel Group
Spouse: Pete Romer Occupation: Regional Manager, Coach House Gifts
Years married: 15 Children: 2 Grandchildren: 3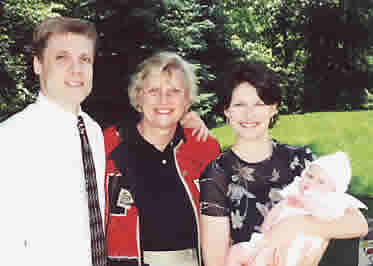 Regretfully, I cannot attend our 40th reunion. I am involved in a number of activities and family obligations around this date. However, I send my best wishes to all.
I will be glad to share news of my family and activities. I live in Huxley, Iowa, only a few miles from Ames, which has been my home for 15 years. I moved to a new house in March and have busily been moving in and in August am still unpacking. The priorities have been to plant a garden and get the sail boat in the water. Glad to report the garden is producing and the sail boat repair is done and we are only a few months late getting to sail. Sailing has become a big part of my life. We are even entertaining the idea that we buy a 35 foot boat to live on (part time) when we retire. Oh yes, it will be near a coast. Iowa has limited water. Also cold in the winter.
For six years I have been a travel director for a large incentive travel company. Companies who reward employees for performance hire us to plan their trips and then I am the lucky one who takes the group to their destination. I recently have been to Japan, Berlin and London. Next year Greece!!! I love my job, it is part time February thru May.
I have been in a gourmet club and consider myself a gourmet cook. I also play bridge with a group of ladies.
I am proud of my sons and their accomplishments. Scott Bouton, is married and has two children. A boy and girl, 9 and 8 respectively. Scott is an attorney and lives in Austin, Texas. After having gotten married and having two children 14 months apart, Scott went to law school at Baylor. Hats off to his wife for the support. Scott, was an accomplished swimmer and had a swimming scholarship through undergraduate school.
Chad Bouton is married four years and has a new baby boy born in March. Chad is an engineer with a masters degree. He is working at Battelle Corporation as a medical product development engineer. He is quite accomplished in his field. While in high school, he won the International Science Fairs in Robotics and won many monies from private companies for his achievements. This paid for his college. He has many patents and just was selected as one of the top 100 engineers in the world.
My husband encourages me in my endeavors and does a lot of heavy lifting for me. That means I usually have some project going on that needs muscle. He, however, is very talented in the fix-it field, as you need to be if you own a sail boat. He is counting the years to retirement.
On a sad note, my mother died two years ago this November. She was 87 years old. What a sad time for us. She had been in inspiration to me, my sister and brothers. We miss her.
******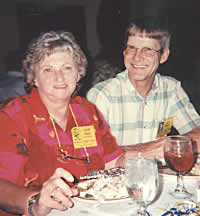 Alvin "Sonny" Rains
Occupation: Asst. Fire Chief, City of Stillwater
Spouse: Lynda
Married: 39 years Children: 12 Grandchildren: 2
******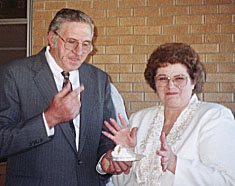 Billie Loyce Robbins
Married Name: (Moore) Baker
Occupation: Retired
Spouse: Ronald Baker Construction Superintendent, M L James Construction, Texarkana, TX
Married: 1 year Children: 4 Grandchildren: 12
Ronnie's Children:2 Grandchildren: 2 Great-Grandchild: 1
Neal Moore is a Fireman with the Stillwater Fire Department. Neal and his first wife Janet have 3 children. Lori is 21; she has been married 1 year and will graduate from OSU next May. Jody is 18 and just finished her first year at OSU and will be married next June. Brett, is 13 and a student of
Perkins. He plays baseball, basketball and football.
Debbie and her husband Kevin Zetterberg live in Ripley, OK. Kevin has started his own construction company and is building houses around the Stillwater area. Debbie bakes all the pies and desserts at Prairie's Edge in Perkins. Devin is 18, not sure about school, and will be married next March. Kyler
is 17, will a senior at Ripley High School and lives to play basketball. Krysta is 15, and will be a sophomore at Ripley High School and plays basketball.
Shelly and her husband Clint Warden live in Lake Dallas, TX. Shelly is a supervisor at Lewisville Hospital in Medical Records Division. Clint is a heat and air technician. They have 3 boys, Justin is 11, Shaun is 8 and
Carson is 8 months. The older boys play baseball and soccer.
Roger Moore and his wife Sandi live in Bixby, OK. Roger is a meat inspector for the State of Oklahoma and Sandi is a stay at home mom. They have two boys, Ryan is 6 and Blake is 7 months. Ryan swims and plays soccer..
Janet Moore (Neal's first wife) is my "daughter" also and works Oklahoma Career and Technology Education Department, in the Information Management Division. She has LeeAnn, 5.
Billy Don Baker, Ronnie¹s son lives in Florida and is into construction. Terry and her husband Gary Whiteman just moved back to Broken Bow last month from California and they are starting a business. They have two daughters, Brandy 21 and Megan 11. Brandy has a 3-year-old son, Sterling. Brandy and
Sterling live near Haworth, OK.
I retired from the Oklahoma Department of Vo-Tech July 1, 1999. I shocked my children, packed up lock stock and barrel and moved to Southeastern Oklahoma. Ronnie and I met in February, 1999 and we were married December 26, 1999. I have done some of the things you always say you are going to do
when you retire, but I still have a long list. I read, sew, quilt and garden. I think the most interesting experience I have had is meeting some of my Mother's classmates. She graduated from Haworth High School in 1941 and they had their 60th Class Reunion in May.
The grandchildren come and spend spring breaks and a week or two in the summer. We have spent a lot time at Beavers Ben State Park and just chasing Blue Tail Lizards, butterflies and toads. Ronnie will retire in about 20 months and we plan to travel and just get up each morning and do just what we want.
******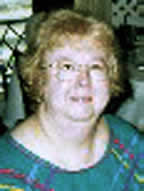 Kittye Delle Robbins
Married Name: Robbins-Herring
Occupation: associate professor of Foreign Languages,
Mississippi State University
Spouse: Stuart Bell Herring Employer: BlueCross of Alabama
Children: 1
Thanks for taking the time and making the effort to track me down! I've often thought of our senior year at Oklahoma as a special time for me and my parents: I recall my Dad's long hours with the computer cards, my mother's coping with my brother Jack's chemistry "experiments" at home, my long hours on the phone with classmates (most often Frieda, if I recall correctly! I am really glad to have her current addresses). I also remember making an expedition with a church youth group down to Oklahoma City to see the BIG movie of the time, one of my all-time favorites, with Charlton Heston. I remember the wonderful theatre performances at OSU, too, such as "Tiger at the Gates" & "Guys and Dolls". I still love plays and movies....
After high school I attended Memphis State (now the University of Memphis) where I majored in French and Latin. Then I went to the University of Kentucky, where I received my M.A. in French in 1969 and my Ph.D. in French in 1975. I am an associate professor of Foreign Languages at Mississippi State University; my husband is Stuart Bell Herring (he works for BlueCross of Alabama), and we have one child, our son Stuart Davis Herring, who graduated from Starkville High School as Class Valedictorian in May 2000 and is now a physics major here at MSU. He has attended theatre camp each summer for the last 5 years, where he helps write and acts in musical reviews; Davis is tall, dark & handsome, with great stage presence and a fine voice (and I am a doting mother!).
We all three enjoy travel abroad; we have been to France, Mexico, and Quebec together (haven't yet made it to Singapore, but would love to go there someday). I love to garden, esp roses and old-fashioned flowers. I am interested in Women's Studies, Medieval Studies, and Francophone literature, as well as Classical French literature, and I am studying the Jungian interpretation of dreams with a study group at my church.
******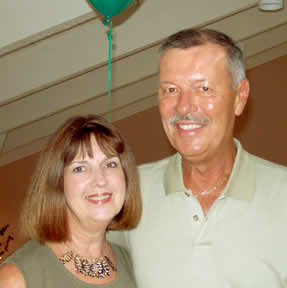 Roberta Saint
Married Name: Pennington
Occupation: Marketing Education teacher
Spouse: Dave Occupation: Retired teacher
Married: 15 years Children: 5 Grandchildren: 10
Jennifer Haynes Quinn is married and the mother of an almost 5 year old and a 2 1/2 year old, Camille and Caleigh. She is a self-employed interior designer; her husband, Drew, is in commercial real estate. They are such fun to be with but more than a handful. Camille can talk and talk and talk and usually is.
Georganna Haynes Geier, works as an administrative secretary for WeldWheels, Inc. Her daughters are Kristen and Lauren; she and her husband, Fred, live in North Kansas City.
Scott Haynes and his wife, Sheree, live in West Palm, Florida. Scott is with Flight Safety International, teaching corporate training classes to companies with helicopters. He has just received his commercial license; loves to fly the "birds." Sheree is working on her accounting degree and is an auditor. Granddog, Buddy, is a yellow lab.
Nancy Pennington Ashmore and her husband, Robin, live in Macon, GA and have 6
children, the oldest of whom will be 8 on my birthday. Robin does CAT Scans and MRI's for a physician's group and Nancy takes care of 6 children!! They call Dave "grandpa suh." He loves it.
Steve and Laura Pennington live in Wichita. Steve is a policeman and Laura is a nutritionist with a local hospital. Our granddog's name is Sampson.
Dave and I are still concentrating on growing older not up. As the words to the Jimmy Buffett song go, "my metabolic rate is pleasantly stuck (at least his is, mine is a mess), let the winds of time blow over my head, I'd rather die while I'm living, then live like I'm dead." So we still go to concerts, travel (love Destin, Florida - best beaches and surf in the land), play in the dirt, (although at the moment the bunnies are winning in the green bean department), in the garden and the flower beds; and belong to the dance club that allows us to periodically raise our heart rates and sing at the same time.
I am still teaching Marketing Education at Shawnee Mission West High School, and until a few weeks ago, I was Division Chairman for Technical Education there. I still have a very active DECA chapter which keeps me very busy. Classroom teaching and DECA chapter activities occupy most of my time .This coming year, a young colleague will take over the beginning classes and I will do Marketing 2 and on the job training. Could be a transition in the making here!
Dave wants me to join him in retirement, buy a travel trailer and go forth. Does anyone remember the Long, Long Trailer with Lucille Ball?
I am still an incurable romantic, looking to the future, remembering the past, and trying each day to experience the joy of life and be grateful for it. I look forward to seeing some of you face to face and hopefully, hearing from those who could not make it this year. Til then,
******
Helen Schatz
Married Name: Cole
Occupation: Realtor
Spouse: Tim Cole (class of '62)
******
Kenneth Schroeder
Occupation: Machinist Employer: C&M Precision
Spouse: Connie Occupation: X-Ray Tech, Dr. John Hughes
Years Married: 31 Children: 3 Grandchildren: 1
Family: Sheldon Neil, Corpus Christi, TX-Architect, not married, likes sailing. George David, Mustang High School math teacher and soccer coach. Wife Jenny, daughter McKena
Holly Marie, horticulturist for Home Depot, husband Ryan Johnson is a second year medical student OSU Medical School in Tulsa.
My employer C&M Precision makes parts for the oil and gas industry and various other businesses. My hobbies have been home and auto repair and gardening partly from desire and partly from necessity. We plan to be RV enthusiasts in about four years.
*****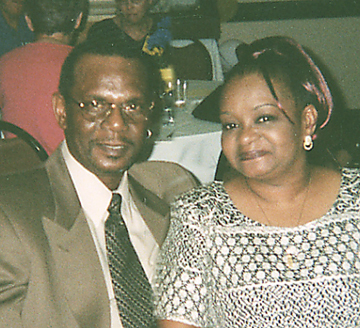 Don Scott
Occupation: Postal Worker
Spouse: Linda
*****
Tom Seeliger
Occupation: Senior VP-Ops. Manager, Santa Fe Intl. Corp.
Spouse: Sharon, Housewife/Mother
Married: 38 years Children: 2
We have two boys, 33 and 27, married and no children. One resides in Houston, Texas and the other in Dubai, UAE.
I am Operations Manager for an international oil and gas well drilling contractor. I have 35 years tenure and have lived and worked overseas the majority of the time. I returned to the U.S.A. in January 2000 to take on my current job.
I like to hunt, fish, boat and garden.
*********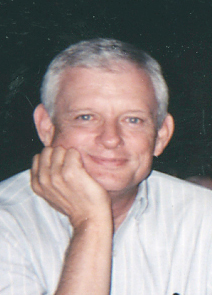 Bill Shull
********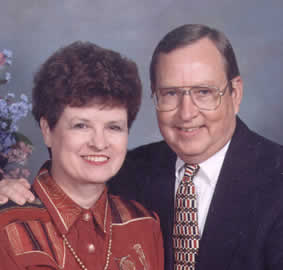 Diane Smith
Married Name: Preston
Occupation: Computer Graphic Artist, Vox Printing
Spouse: Bill, Food Service Director, Southern
Nazarene University
Married: 40 years Children: 3 Grandchildren: 1
Our oldest son Mitchell has lived Miami, Oklahoma for nearly two years, where he is in family practice and delivers babies. His wife, Lori, is in nursing school after putting him through OU Medical School working at the General Motors assembly plant here and in Shreveport, Louisiana. He did his residency and internship in Shreveport. He had a private practice in Borger, Texas for two years before he moved to Miami to work for Baptist Integris. Mitch's wife has two teenagers. Jordan graduated from high school this year and will be attending OU. Tara just got her driver's license... It's been nice having them in Miami, since we have made bi-weekly trips to nearby Grove to see Bill's 102-year-old mother in a nursing home for the last 12 years.
Our middle child, Curtis, graduated this spring from OU with an Electrical Engineering degree. He and his wife Michaele moved to Phoenix in May where he works for Honeywell and she works for the University of Phoenix. They have been married for six years and lived and worked here in Oklahoma City until graduation. We will miss having them close, but will be making frequent trips to see them, since Southwest Airlines flies non-stop to Phoenix and there's also a NASCAR race there. (more on these later)
We FINALLY got to be grandparents... Our daughter Amy and her husband, Mark Watkins, had a beautiful baby girl last November. Her name is Piper, and I have LOTS of pictures. They live in Flower Mound, Texas. It's less than a three-hour drive, so we can just go there on a whim... and frequently do! Mark is a computer programming consultant-or something. Amy is a programmer for Southwest Airlines. EVERYONE should have a child who works for Southwest Airlines!!! That gives us free flight privileges (space available) and we are trying to experience every mile we can possibly travel. This working thing is sure putting a cramp in it for us though.
Bill and I are both still working, and REALLY enjoy our jobs. He is food service director at Southern Nazarene University in Bethany, Oklahoma. He still works for the contract food service division he has worked for since graduating from OSU in 1961 (except for 1979-1987 when he had to try something else). The division has changed ownership several times. First it was Saga Food Service, then it was taken over by Marriott, and this June was completely bought out by Sodexho, a French hotel chain. He's always fed students and loves doing it. They love him AND his food. He's planning on retiring in June 2004.
I am still doing computer graphics prepress work for Vox Printing. We primarily print McDonald's trayliners and other materials. It's great fun to check out the McDonald's all over the country and find our trayliners! Vox is a great little family-owned company to work for. I'll probably retire when Bill does.
Bill and I both keep VERY busy. Most of our leisure time is spent in the car-going somewhere... I have learned to do almost ANYTHING in the car to put that time to good use. Bill is still into restoring old cars. For many years he has been restoring a 1956 Chevrolet Nomad station wagon that belonged to our son, Mitch in high school. The project is moving a little faster these days, but with the addition of a grandbaby to visit in Dallas and a son to visit in Phoenix, it may again slow to a crawl.
I have a plethora of hobbies and interests-and not nearly enough time for any of them. I like to help the kids decorate their homes-making draperies is my forte. I'm into genealogy and there's NEVER enough time for that!!! I've made several study trips this year to do genealogy research. We took a wonderful trip to England last summer with a group from our church. We studied the ministry of John Wesley and the itinerary of the trip focused on the sites that were most important to the Methodist movement. There was also a side trip to Germany to see the famous Passion Play at Oberammergau. Bill and I are ready to travel ANYTIME and looking forward to doing more.
Most of our recreation involves attending NASCAR races. Bill's been a fan for years and it's kind of grown on me the past several years. With the combination of free Southwest Airlines flights and free Marriott Hotel rooms (both space available) the fun is in the challenge of coordinating these freebies to make it to a race and back. We have been actively lobbying for one of the kids to go to work for a car rental company so we don't have to pay to rent a car when we go!!!
*********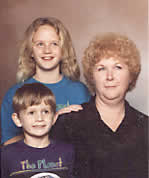 Mary E. Spaulding
Married Name: Armstrong
Occupation: Customer Service Rep, City of Oklahoma City
Children: 1 Grandchildren: 2
My daughter Sherry B. Oldfield is a Certified Mid Wife at Parkland Hospital in Dallas and is 40 years old. My granddaughter Erica Lane Oldfield is a Collections Rep. Associates and is 20 years old. Grandson Blake Ryan Pickett is a 14-year-old student. Sherry has a very successful career and thoroughly enjoys delivering babies and counseling new mothers. Erica was recently employed, but enjoys her job and is making a promising career with her company. Blake is starting to mature and is a joy to be around. I live very close to most of my siblings and we enjoy each others company very often.
My job is very satisfying. I work closely with customers to resolve any problems with their water service. I perform full-service counseling on financial aspects of accounts; meter repairs, refuse service, etc. I have been with the City since May, 1992. I enjoy fishing, camping ceramics, gardening, reading and movies. I love to travel.
********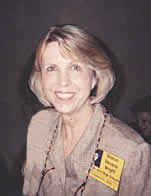 Sharon Stevens
Married Name: Wright
Occupation: Dean of Instruction, Tulsa Community College,
West Campus
Spouse: Gary L. Wright Occupation: Cattle Buyer for Lone Prairie
Years married: 37 Children: 2 sons
Grandchildren: none, dammit
(but two gorgeous almost-step granddaughters)
Gary Wright (class of '60) and I married in June, 1964. We have two sons, Dave and Blake, both of whom are grown and live right here in Stillwater, where we can give them a hug whenever we can catch them. Gary, who has been a cattle buyer ever since he was still in college, had a mild heart attack in mid-March. We count ourselves very lucky that he was in town at the time instead of on the road heading to or from a sale barn. He had stopped by to say hello to our son Dave & they went together to the emergency room. They arrived in time to prevent any damage to the heart muscle; fortunately, they learned this almost at once & when Blake joined them at the hospital, he and David phoned me in Tulsa and told me the bad news-good news story. A day or two later, Gary had the balloon angioplasty procedure and a stent placed in one of his arteries. (He and the surgeon both spoke to me by phone directly following the surgery, which still astounds me-talk about reassuring!) Now, Gary is recuperating steadily and (somewhat ironically) remains the envy of all his doctors and nurses for his consistently low blood pressure and low cholesterol levels-(guess it was 30 years of smoking and driving pickups instead of jogging that clogged that artery).
As for me, I began a new job in January as the dean of instruction at the West Campus of Tulsa Community College, located in Sand Springs. I love working there & commute daily from Stillwater. It's a beautiful drive that takes me across either the Cimarron River or Lake Keystone, morning and evening, depending on the route I take. The commute also allows me to listen to books on tape, which I love to do.
Aside from reading books on tape, my hobbies include collecting Alice in Wonderland & Through the Looking Glass and watching the birds, wildlife and the play of light on dappled water from a little park bench by the pond that borders our back yard. This is my favorite spot in the whole world, a place almost like a secret garden to me because, although it was always there, thick brush and a steep drop completely hid the pond from our view for the first 20 years we lived here. Finally, last year we terraced down to the pond with railroad ties and a curving stairway leading to the water's edge. This summer, we'll add a pier and dock on-what else?-Looking Glass Pond. I don't fish (ugh, they smell so bad), but maybe a rowboat or paddleboat will be next??
*********
Anne Swim
Married Name: McGuire
Occupation: Retired School Teacher
Spouse: David McGuire Occupation: Retired School Teacher
********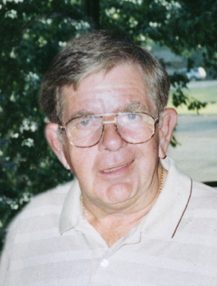 Don Teter
Occupation: Gasoline Wholesaler
*******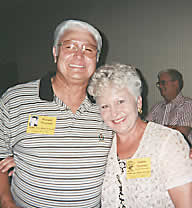 Russell A. Thurman
Occupation: Co-owner, Stillwater Typewriter Co.
Spouse: Debbie Occupation: Telecommunications, Mercruiser
Years Married: 23 years Children: 4 Grandchildren: 6
Debbie and I have 4 daughters-mine, hers and ours. Our oldest Gwen and middle daughter Sherri work for the State of Oklahoma in child welfare. Both are OSU grads. Joni is a homemaker. RaChelle, our youngest (20 years) is attending college in Tulsa, majoring in medicine. Six grandchildren who love to go fishing with PawPa. Both our mothers live in Stillwater.
Last October 15th I celebrated my 40th year with Stillwater Typewriter Co. In 1963 I bought my first shares of stock. The corporation owns five other businesses and employs over 130 families. But my work interferes with my fishing and traveling. Debbie and I love to fish for trout in Arkansas and Missouri and love to travel over the USA.
Other interests include farming and doing custom cutting. Debbie keeps busy also in her and her mother's real estate rental business, among other things. But also most of all enjoy life and working in our church.
*********
Rhonda Tucker
Married Name: Britton
I will not be attending the reunion. I am leaving as soon as I send this off to you to visit our daughter in Utah, who is very pregnant with twins. I am taking my mother-in-law with me.
My family is growing by leaps and bounds. Our oldest son, Jon, graduated from Stephen F. Austin Univ. in Nacodoches, TX and is a Narcotics Detective in Plano, TX and lives on a farm just 12 miles from where we raised our family in northeast Texas. He has three children and a lovely wife. Their new daughter was born in April.
Our daughter, Brenda, graduated from Univ. of Utah, but attended Texas Tech for three years prior to that. She has two sons and is very pregnant with twin girls due in October. We all hope she will go that long! She still puts in 10 hours a week at Varian Imec and is an engineer and project manager, but mostly a mom.
Son, Bobby graduated from Texas A&M Univ. and is an engineer with Intel and lives in Colorado Springs with his wife and two sons.
Son, Bucky, is unmarried and lives in Durango, CO and works for a blasting company. He plans to seek his fortune in Alaska next year while he is still unattached!
*********
Hazel Turner
Married Name: Robnett
Occupation: Private Caregiver
Spouse: Alva Robnett Occupation: Retired, Grocery Store Operator
Married: 15 years Children: 2 Grandchildren: 3
My first husband and I married in 1963. His name was Doug Wiggins.
We had two children; Lorrie Ann Wiggins and Doug Wiggins, Jr. He lives in Smithville, Texas.
Lorrie lives in Lonoke, Arkansas.
*****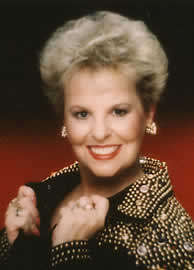 Margaret Walker
Married Name: Hamiter
Spouse: Bobby
Married: 24 years Children: 4 Grandchildren: 8
Robert, our oldest child passed away in 1979. Daughter Kim has 2 daughters and the oldest graduated from high school this year and will be attending Oklahoma Baptist University in Shawnee, OK. Teresa has 4 children and lives in Cedar City, Utah and Michelle has 2 children and lives in Henderson, Nevada.
My husband retired in March 2000 after 41 years with the same company. He stayed off for 14 months and just went to work parttime for Wal-mart in the photo department. I still volunteer at the hospital on Monday nights. I have over 2000 hours now. Also do some work for a monogramming business here in town.
********
Roger Walters
Occupation: President/Owner, Museum Concepts, Inc.
Spouse: Barbara
I design, fabricate and install museum interiors/exhibits nationally for
Sports Hall(s) of Fame, etc.
********
Bill Walton
Occupation: Self-employed, Book Dealer, alottabooks.com
Spouse: Carol Burton (class of '62) Occupation: Teacher
Children: 2 Grandchildren: 3
My wife Carol (Burton, SHS '62) and I are still living in New Jersey. We have two daughters, both married and both living close enough that we visit very often (we are probably too close, if you asked them). We have three grandchildren Katie, 22 months, Michael, 8 months, and Jackie 2 months. We spend as much time with them as possible, of course.
Carol still teaches 2nd grade in Cherry Hill schools. She received state-wide recognition a couple of years ago as "Teacher of the Year". Donšt know how much longer she will teach though; it is getting in the way of visiting the grandchildren!
After spending 21 years in the Navy and 8 years in data processing with an insurance company, I am now co-owner of "alottabooks.com" an internet used book store. We are one of the ten largest as far as number of books online, etc. We are located in an 85 year old three-story brick school building here in Southern New Jersey. I travel some to participate in book shows... Boston, Long Island, Washington D.C., etc. It is great fun, but not really making much money.
*******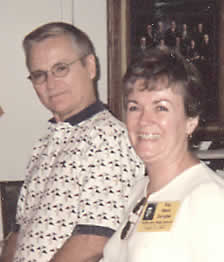 Kay Ward
Married Name: Douglass
Occupation: Semi-Retired, Assistant to Real Estate Agent
Spouse: Charles Occupation: Semi-Retired,
Parttime, Silver Dollar Theme Park
Married: 35 years Children: 2 Grandchildren: 2
Charlie and I sold our resort four years ago and now we both work part time. We enjoy boating on our beautiful Ozark lake and traveling, but most of all enjoy our two married daughters and their families. We have two wonderful grandchildren-Brock (7) and Christen (3). We love being grandparents. We have really enjoyed our slower pace of life these past four years.
We are learning about computers and the exciting things they can do, especially now with their photo capability. I'm still in remedial computers, but gaining!
Our oldest daughter Terri has received her masters in Family Counseling and Cheryl has a degree in radiologic technology. Great to have children "out of college"!
*********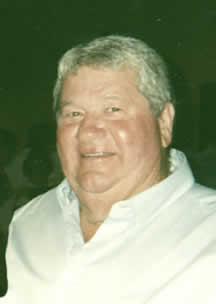 Gary Westmoreland
Occupation: Sales Manager, Ron Shirley Pontiac Buick GMC
Children: 2 Grandchildren: 2
Adjusting to being a single person after 38 years of marriage. Still doing old cars. One would think I'd get enough of them working around them all day, but will never grow tired of the sound of a good set of pipes.
*********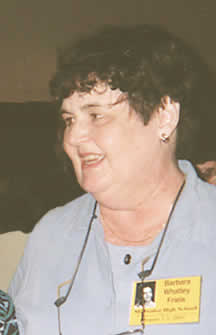 Barbara Whatley
Married Name: Friels
Occupation: Parttime Vendor, American Greetings
Spouse: David Friels Occupation: Civil Engineer, EmCon
Married: 36 years Children: 2 Grandchildren: 2
Our daughter Karen graduated from North Texas at Denton with an interior design degree and from Texas Wesleyan with a teaching certificate. She is teaching at Gymboree two days a week and keeping busy with Kelsey (4 yr.) and Parker (1 mo.) Our son James finished at UT Arlington with Civil Engineering degree. He works with the Texas Highway Dept. in Fort Worth.
I have worked for American Greetings for three or four years and am presently at the Mansfield Wal-Mart. David and I spend enjoyable hours with our grandchildren. David and I are looking forward to retirement and traveling with the children and grandchildren. My hobbies are herbs and rose gardening, sewing, arts & crafts. I volunteer at Wesley Mission Center and do computer work at the church.
*********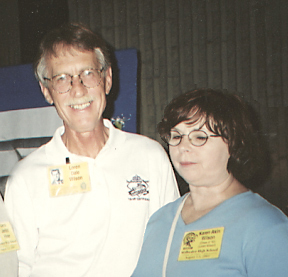 Loren Dale Wilson
Occupation: IBM Tech Consultant
Spouse: Karen Akin Years Married: 39 years
No Children
I am a tech consultant on mainframe computers for IBM, helping software vendors enable their applications on IBM systems. This career has taken us all over the country. Hobbies and other interests over the years have included sailing and sailboat racing, flying, open-wheeled auto racing, skiing, auto mechanics and restoration, motor cycling, sport free-climbing in Yosemite, the 5-string banjo, and now... Golf. Loren Dale is an avid public links club tournament player, around 18 handicap.
*********
Cathey Wright
Married Name: Jendeski
Spouse: Rob Occupation: Network Engineer, Science Applications International Corp.
Years Married: 9 years Children: 2 Grandchildren: 3
Well, I expected to be in Helotes, TX for the rest of my natural life, but here I am in Sierra Vista, AZ. After a week in state, the worst of the mess is over. My computer room still looks like hell hit by a tornado, but then it has always looked that way and probably always will.
I was married to Pat Clifton, class of 59, for over 30 years. Pat was in the Air Force so we lived in many different states and countries. I loved moving different places and meeting new people. Pat and I divorced early in 1992 shortly before he retired from the Air Force but we remain close friends. Pat teaches at a community college in San Antonio. Pat and I have two children, Patrick and Rachael. Patrick just returned to the US after spending 10 years in Bangkok, Thailand. Rachael lives in New Braunfels, TX and has provided me with three granddaughters, Jenna 15, Jerelyn 12, and Jaeci 7.
In the fall of 1992 I walked into the assembly hall of the singles department of my church and saw a man I had never met before. I introduced myself to Robert Jendeski and about a year later we were married. Rob is a network engineer and has been employed by Science Applications International Corporation since he retired from the Air Force.
About four years ago my brother asked me to search the internet for information about our main families, Wright, Payne, Stafford, Slover, and Vance, just to name a few. I agreed and in a short time was hooked on putting together the world's biggest jigsaw puzzle of ancestors. I really enjoy it and probably spend waaay too much time in graveyards and on the internet finding information about all these dead people. If you have any interest in the above surnames, e-mail me. Your ancestors just might be in my database. Most are from IN, AR, TN, IT, and OK. Paynes, however, might be aliens from another planet. Their history seems to end about 1800 somewhere in OH. NO ONE can find them before then.
Beside genealogy, I love to travel. Rob is on the road a lot and I go with him whenever I can. For vacations, we usually head for Hawaii, one of my most favorite places in the world. This spring we met my daughter and granddaughters in Honolulu to show the grandchildren where their mother grew up. Now, Rob and I will probably never be able to go back without three little voices begging to tag along.
Diane Smith Preston pretty much had me talked into attending the reunion, when this move to AZ came up. I would love to be there but find that I just cannot face another long trip so soon after moving. Maybe in 5 years...
Page 1-Adams-Carmichael Page 2-Carpenter-Durham Page 3-Edmonds-Long
Page 4-MacAlpine-Norton Page 5-Otsuki-Wright